Your Mold Inspection and Testing Experts in Wayne, NJ
At UCM Carpet Cleaning Wayne, our mold inspection and testing experts make use of the latest technology to detect mold growth and establish where it is happening. We always address the mold problem in Wayne, NJ as if it were our own. During mold inspection services, we keep our communication open to ensure that you understand what's happening and what you should expect. We also keep everything transparent to ensure that you make the best decisions on how you want the mold issue handled. You can count on us for your mold testing and remediation service in Wayne, NJ since our team is very responsive whenever you need help. At UCM Carpet Cleaning Wayne, we have all the required knowledge, equipment, and health/eco-friendly approaches required for the task.
What Does Mold Testing Include?
During mold detection, we make use of several methods to find mold. If mold growth is spotted, UCM Carpet Cleaning Wayne will offer mold remediation services, supplied with actions to avoid the mold in Wayne, NJ in the future. To detect mold growth during a mold inspection, we'll assess the affected area to establish whether it's mildew or mold, and what will need to be done to take care of it. We'll check for any signs of plumbing leaks in water pipes, icemaker lines, or waste lines. If we think there is a chance that the air ducts are involved in the problem, we'll inspect the ductwork. Poorly insulated ductwork can easily experience mold growth.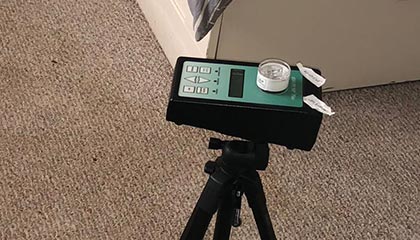 By collecting mold testing samples, both from surfaces and by collecting from the air, we will be able to capture a snapshot of the exact situation at that time. After detecting mold in your house or property in Wayne, NJ, and nearby areas in Passaic County, we'll take these samples to a laboratory to test for parameters like:
The type of mold
The mold toxicity
The possible health issues
The possible effects on the environment
The possible ways to correct the mold problem
Professional Mold Detection Assistance
Do you have any mold issue in your house or commercial building in Wayne, NJ, and nearby areas like Passaic County that needs professional mold testing? Don't look further since at UCM Carpet Cleaning Wayne, we'll address all your mold problems (thanks to our professionalism and expertise). As mold specialists, we'll guide you in every step of the process to ensure that you understand what we're trying to do. We will also guide you on how to minimize similar problems in the future. Don't let your family or employees experience the harm caused by mold growth any longer! Ask for our services today to have the best experience. With our services, you'll experience many advantages including:
Free cost estimate
Great communication
Quality work guarantee
Reasonable price, and many more.
To get started, just call us today at 973-826-7747.