What Makes Our Services Stand Out?
At UCM Carpet Cleaning Wayne, our mold remediation services are unlike any other. We use eco-friendly supplies and professional equipment and techniques to ensure that the health and safety of our customers are not put at risk throughout the mold remediation process. Our certified mold remediation experts apply their knowledge and experience in mold inspection, mold testing, and mold treatment to ensure that your home is rid of mold. What makes our mold remediation service unique is how our trained and licensed mold experts combine their experience with state-of-the-art tools and tried-and-true techniques for mold removal.
UCM Carpet Cleaning Wayne is only a call away.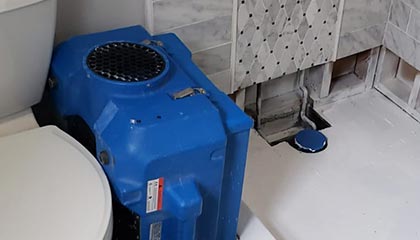 How We Solve Your Mold Problems
When our mold inspectors get to your house, we will have questions for you regarding the mold, and these questions are necessary for us to establish some basic information and make an informed decision. These are some of the necessary steps our mold inspection experts will carry out.
Mold Inspection and Testing: This is the first stage of the mold remediation process to determine the parts of the house where mold growth is present, after which mold testing will also be conducted to determine the type of mold in your house. Mold testing will also help our mold experts know if mold can grow in other parts of the house.
Mold Removal and Remediation: At this stage, it may be necessary to move some of the appliances and furniture in the house to a safe location to prevent damages to them during the cleaning process. Mold removal involves the removal of the mold from the places where they have been observed in the house. In contrast, the remediation process involves the removal of the contaminated materials and the mold.
Preventative Treatment (Disinfection): One of the reasons you should choose UCM Carpet Cleaning Wayne is that we also include preventative treatment in our mold removal services. The safety of our customers is a priority to us, and that is why we ensure that measures are in place to prevent mold growth from returning after remediation is complete. With eco-friendly and safe chemical treatments, we disinfect your home to ensure that you do not have a mold problem in the future.
Final Cleanup: Cleaning up after a mold remediation process is as vital as mold removal. Our mold experts understand this. That is why they ensure that all the cleaned surfaces are kept clean and dry to prevent any further problems.
Reliable Mold Experts Near You
UCM Carpet Cleaning Wayne offers mold remediation services to all residential and commercial areas around Wayne, Passaic County, and nearby areas. We are also known for our up to date remediation approaches, equipment, and the professionalism of our mold removal experts. We also understand that mold removal and remediation is essential, and we try to offer pocket and budget-friendly prices for our customers.